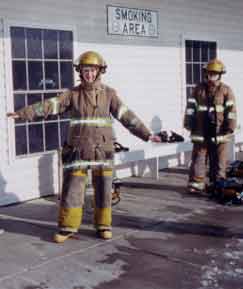 Mother's Poem to put out the fires

(for Rosemary-the-gallant at age 76)

The fire gear
helmet, tank and harness,
heavy boots,
heavy even without my bad foot.
The group behind me, encouraging,
I climb steel ladders,
step over water-tight door sills
with heavy boots and back tank,
spray at the fire
with twisting, heavy hose.

Hard, now, even to lift my hands to type.

My exam yesterday was great: 96.
It's 4pm
With my room-mate--
a Chief Cook from Tacoma--
we'll do something for FUN.

Febrruary 25, 2001

---
Time for a new battery but not new underpants
New Battery Adventure today.
I went to the car and
it was DEAD.
I tried my service station.
Closed.
I took a bus to the Chinatown area service station.
They sent me, by bus to Strauss Bros.
I bought a battery and took it home by taxi.
I tried to extract the old battery
BUT it was clamped in!
I called AAA; he came but had no tools.
He jumped the battery;
I drove to the station;
"he" installed the battery;
I took the old one back to Strauss for $10 refund.
I am home now writing to you 4 hours later.
I did not go to see Helen with new underpants.
I'll try
next weekend.
Rest time.
Love, M.

---